Share this URL: http://ptix.co/1I0TKye
Event is FINISHED
Unlikely Yoda
Experience Learning Through Your Senses
Schools are fundamentally broken. The main reason why is it broken is because the parents, the teachers, and the tax payers have not asked a very simple question:
What is school for?
If you think school is for teaching kids resilience, problem solving, initiative, and leadership, then school is failing on all fronts. The reason it's failing is you can't do a standardised test for any of those things.
We would like to redefine learning as a discovery process.
This discovery happens though exploration through your senses on things that you are interested in. It's an ambush of various things where you get to select what you are interested in.
From here, you tinker and learn to grow the interest to a passion. This is our definition of education.
Hence, we went on an adventure to curate the people (the yoda) who have successfully done this to educate you (the student) to do the same.
Presenting, Unlikely Yoda - An event to honor the unlikely amongst us.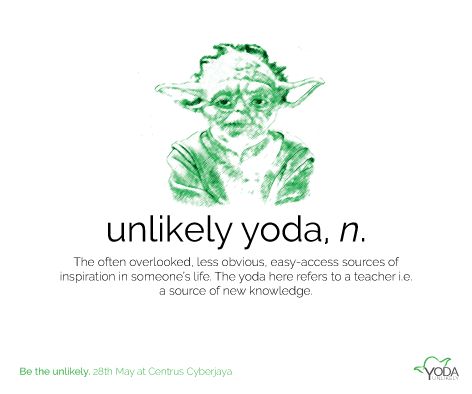 read more
Thu

May 28, 2015
6:00 PM
-
10:00 PM
MYT
Add to Calendar
Venue

Centrus Cyberjaya
Tickets
Venue Address

Centrus, CBD 3 Cyber Jaya

Malaysia
Organizer
Want to find more groups and events like this?