Share this URL: http://ptix.at/omGyWL
Event is FINISHED
PONY x Yong Bae Seok Singapore Pre-Order
Pre-Order
The PONY x Yong Bae Seok City Wings Pre-Order starts on 8th October 2018
Limited Pairs are available
Please refer to product list below for colourway
Payment Method: Visa, Master & Paypal only.
The number behind each product number on PRE-ORDER TICKET list indicates the size.

i.e. 712A-A1-42 is for

Size 42

of that colourway

Collection
Please bring along your proof of purchase in the form of Peatix ticket to claim your PONY x YBS City Wings
Collection shall be done ONLY at:
Street Superior 2018 (PONY Singapore Booth)
Power Station, Pasir Panjang
27th October 2018



The PONY x Yong Bae Seok Collection
PONY teams up with Yong Bae Seok for an exclusive capsule collection. For this collaboration, Yong chose PONY's signature City Wings to reflect the brand's US heritage and classic basketball style.
The collaborative line showcases the selection in premium quality leather while paying tribute to PONY's original colors.

A total of six colorways is offered – three for low cut and three for high cut.

Inspired by the strong angular lines of Zaha Hadid's Vitra Fire Station, Yong added his modern interpretation into the design, with bold red and blue geometric block colors to give a strong visual impact.




1. 712A-A1 YBS x CITY WINGS



Colourway: Cloud Dancer / White, Red & Black
Sizes Available: 41, 42, 43, 44

2. 712A-A2 YBS x CITY WINGS

Colourway: Black, Red & Cloud Dancer / White
Sizes Available: 41, 42, 43, 44


3. 712A-A3 YBS x CITY WINGS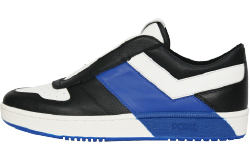 Colourway: Black, Cloud Dancer / White & Blue
Sizes Available: 41, 42, 43, 44


4. 713A-A1 YBS x CITY WINGS HI

Colourway: Cloud Dancer / White, Red & Black
Sizes Available: 41, 42, 43, 44


5. 713A-B1 YBS x CITY WINGS HI

Colourway: Cloud Dancer / White & Red
Sizes Available: 42, 43, 44


6. 713A-B2 YBS x CITY WINGS HI

Colourway: Cloud Dancer / White & Blue
Sizes Available: 42, 43, 44
Read more
Oct 9
-
Oct 26, 2018
[ Tue ] - [ Fri ]
6:00 PM
-
11:00 PM
SGT
Add to Calendar
Venue

Pasir Panjang power station 'A'
Tickets

712A-A1-41: YBS x City Wings (Cloud Dancer/White, Red & Black)

SOLD OUT

$249.90

712A-A1-42: YBS x City Wings (Cloud Dancer/White, Red & Black)

SOLD OUT

$249.90

712A-A1-43: YBS x City Wings (Cloud Dancer/White, Red & Black)

SOLD OUT

$249.90

712A-A1-44: YBS x City Wings (Cloud Dancer/White, Red & Black)

SOLD OUT

$249.90

712A-A2-41: YBS x City Wings (Black, Red & Cloud Dancer/White)

SOLD OUT

$249.90

712A-A2-42: YBS x City Wings (Black, Red & Cloud Dancer/White)

SOLD OUT

$249.90

712A-A2-43: YBS x City Wings (Black, Red & Cloud Dancer/White)

SOLD OUT

$249.90

712A-A2-44: YBS x City Wings (Black, Red & Cloud Dancer/White)

SOLD OUT

$249.90

712A-A3-41: YBS x City Wings (Black, Cloud Dancer/White & Blue)

SOLD OUT

$249.90

712A-A3-42: YBS x City Wings (Black, Cloud Dancer/White & Blue)

SOLD OUT

$249.90

712A-A3-43: YBS x City Wings (Black, Cloud Dancer/White & Blue)

SOLD OUT

$249.90

712A-A3-44: YBS x City Wings (Black, Cloud Dancer/White & Blue)

SOLD OUT

$249.90

713A-A1-41: YBS x City Wings Hi (Cloud Dancer/White, Red & Black)

SOLD OUT

$299.90

713A-A1-42: YBS x City Wings Hi (Cloud Dancer/White, Red & Black)

SOLD OUT

$299.90

713A-A1-43: YBS x City Wings Hi (Cloud Dancer/White, Red & Black)

SOLD OUT

$299.90

713A-A1-44: YBS x City Wings Hi (Cloud Dancer/White, Red & Black)

SOLD OUT

$299.90

713A-B1-42: YBS x City Wings Hi (Cloud Dancer/White & Red)

SOLD OUT

$299.90

713A-B1-43: YBS x City Wings Hi (Cloud Dancer/White & Red)

SOLD OUT

$299.90

713A-B1-44: YBS x City Wings Hi (Cloud Dancer/White & Red)

SOLD OUT

$299.90

713A-B2-42: YBS x City Wings Hi (Cloud Dancer/White & Blue)

SOLD OUT

$299.90

713A-B2-43: YBS x City Wings Hi (Cloud Dancer/White & Blue)

SOLD OUT

$299.90

713A-B2-44: YBS x City Wings Hi (Cloud Dancer/White & Blue)

SOLD OUT

$299.90
Venue Address

Pasir Panjang Road

Singapore