Share this URL: http://ptix.at/5j4dVh
Event is FINISHED
SAKE Spring 4/29(Sun) The Special Pass with Guided Tour
The Special Pass with Guided Tour 4/29(Sun)
Enjoy the event with accompanying guide for people who are new to Sake!
Please make a purchase from "
GET TICKET
"
In this Guided Tour, a knowledgeable Guide takes Guests around the event and shares information that gives a glimpse.
Guests will also learn little known facts about the Sake, which makes this Guided Tour an enjoyable experience for both first-time Guests and those who have tasted many times before.
At the beginning of the tour, Guests can taste 4-5 kinds of Sake which is carefully selected by the Guide as a starter, and then talk to the brewer directly to hear the stories behind the sake-making.
- This service is only available in English.
※The tour is held at selected time, for about 1 hour.
※The maximum is 10 people.
※Additional Sake and snack tickets can be purchased at the event.
・Sake tickets 12(worth 2,400yen)
・An original Ochoko (Sake cup)
・A fun souvenir
<Pass
is recommended to people who want>
to try a taste of Sake in small amount

to enjoy and study Sake at the same time

to join pleasurable event as a part of sightseeing in Spring

not much drinks, but want to try out a bit of Sake.
13:30- Meeting up with the Guide
13:30- Showing around the Hall and explain how to buy tickets etc.
13:40- A short lesson about Sake, tasting 4-5 kinds of Sake selected by the Guide
14:05- Question time with a Sakemaker
*You are provided 12 Sake tickets but half of them are used for the Sake tasting.
*The tour starts at selected time but you can enter the event anytime you want.
*
If you are in a group of over 10 people, ask us for assistance. We might provide 2 sets of tour. Mail to:yoyaku@onozomi.com
<Cancellation policy>
Once booking is made, fees will not be refunded in case of cancellation. Please check the date carefully and enter the correct number of participants when making your reservation.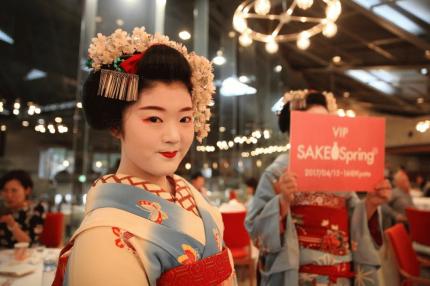 read more
Sun

Apr 29, 2018
11:00 AM
-
6:00 PM
JST
Add to Calendar
Venue

Kyoto International Event Hall 422, Iwakura Osagicho, Sakyo-ku Kyoto-shi, Kyoto, 606-0001, Japan
Tickets

13:30- The Special pass with Guided tour 4/29(Sun)

SOLD OUT

¥5,000

15:00- The Special pass with Guided tour 4/29(Sun)

SOLD OUT

¥5,000
Venue Address

Kyoto International Event Hall 422, Iwakura Osagicho, Sakyo-ku Kyoto-shi, Kyoto, 606-0001, Japan

Japan