Share this URL: http://ptix.co/1fairWS
Event is FINISHED
Film Photography Workshop (5 Sessions, Starting 3 Apr, 2014)
Analogue Photography & Film Developing Workshop
Phocus Academy presents
Film Photography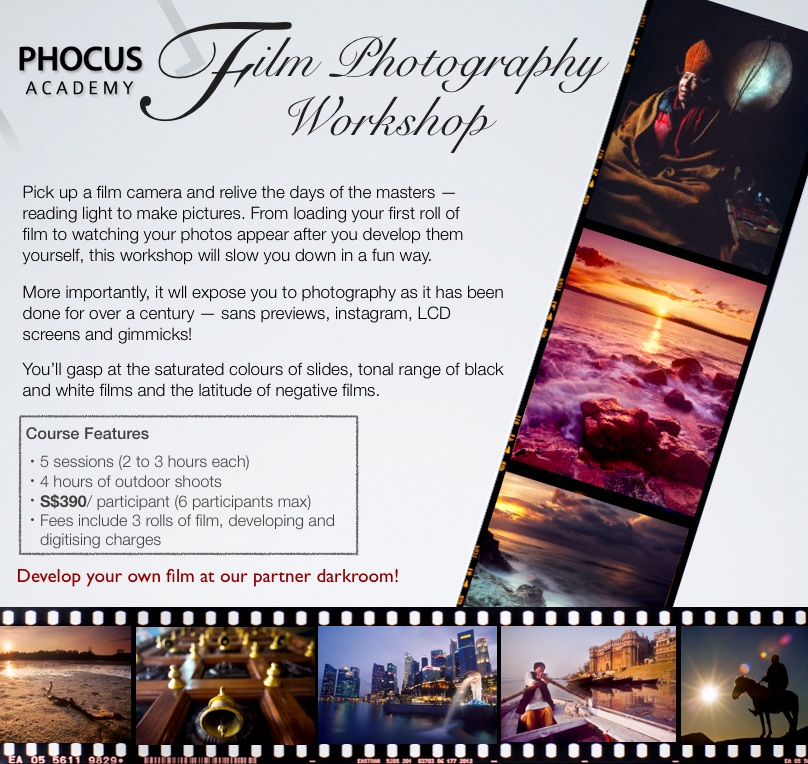 Date:
3 April 2014
Time:
Various timings, see Course Schedule below
Number of Sessions:
5 Sessions (2-3 hrs each)
Venue:
Session 1 and 3: 32A South Bridge Road
Session 2 and 3: Various locations in town area
Session 4 and 5: Darkroom (Analog Film Lab, 203 Henderson Road)
Workshop Fee:
S$390/person (max 6, min 5)
Course Requirements
Participants must bring their own film camera (SLR or rangefinder with manual exposure capability). Film camera bodies may be rented for $30 for the workshop. Basic working knowledge of general photography techniques including technical handling of cameras is assumed.
A tripod is necessary for the workshop on the two guided field trips.
Course Schedule
April 3, 2011, 7.00–9.00pm (Thursday)
April 5, 2011, 7.30–9.30am (Saturday)
April 6, 2011, 5.00–8.00pm (Sunday)
April 7, 2011, 7.00–10.00pm (Monday)
April 10, 2011, 7.00–10.00pm (Thursday)
Course Description
It's just you, your camera, light and films (provided by us!). From loading your first film to seeing your images on a light box, you'll learn to shoot different films under various lighting conditions.
You'll get down and dirty, processing your black and white roll in our partner darkroom and see your photos appear before your eyes.
At the end of the workshop, you would shed away your insecurities, review screens and histograms; instead shoot with confidence in varying lighting conditions from daylight to lowlight and even (gasp!) with a flash. We'll also digitise your films so you can show off on Facebook!
Promotions & Discounts
Early Bird Promotion - $10 off
Sign up and make payment at least one month before the commencement date to enjoy $10 off your course fee.
Phocus Student Card - $10 off
Students of Phocus Academy with a valid student card enjoy $10 off the course fee.
Bring-a-friend Promotion - $10 off
Bring a friend along and enjoy $10 off your course fee.
Detailed Course Outline, Sign Up Details
For detailed
course outline, schedule, wet weather plans and sign up forms,
please visit our
Film Photography here
. For other enquiries, please email us at
academy@phocus.com.sg
---
read more
Updates
Title was changed to "Film Photography Workshop (5 Sessions, Starting 3 Apr, 2014)". Orig#31360

2014-03-24 05:05:41
Apr 3
-
Apr 10, 2014
[ Thu ] - [ Thu ]
7:00 PM
-
9:00 PM
SGT
Add to Calendar
Venue

32B South Bridge Road
Tickets

Credit Card Payment

SOLD OUT

$390.00

Credit Card Payment (2 pax)

SOLD OUT

$770.00

DBS Transfer (Details will be emailed)

FULL

OCBC Transfer (Details will be emailed)

FULL

Cheque Payment (Details will be emailed)

FULL
Venue Address

32B South Bridge Road, Singapore

Singapore
Organizer
Want to find more groups and events like this?