Share this URL: http://ptix.co/2eXQrQe
Event is FINISHED
Accelerate & Speed Learning for Adults
In today's hustle and bustle lifestyle, many working adults are limited by their personal growth. Losing the opportunity to potentially become more effective and productive for themselves and for their companies.
We aim to help change that, with a very interesting programme that helps to:
- Break slow reading habits
- Create effective ways to understand facts easily
- Cultivate and Foster Creativity
By learning "how to learn", professionals can NOW develop the skill to enrich themselves in either business or in their workplace.
How is this practical in the real world?
Imagine if you can:
- Remember facts and figures (especially if your industry keeps updating their information)
- Finally finishing all the books you got back at home
- Be able to unlock great ideas or solve critical problems because you can see the big picture easily
- Create a great first impression at a networking event by remembering all the names
Turbo Charge Learning "Adult Transformation" Programme
We're conducting a 3-hour programme on 24th September 2017 (Sunday) morning, 9am - 12pm in Aman Suria.
Seats are limited as we focus on personalising each session to the participant, so do contact us to register.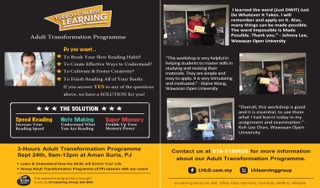 I like to end with a quote from Jim Rohn:
"Learning is the beginning of wealth. Learning is the beginning of health. Learning is the beginning of spirituality. Searching and learning are where the miracle process all begins."
Trainer's Profile
Webster Ku - Lead Trainer & Head Coach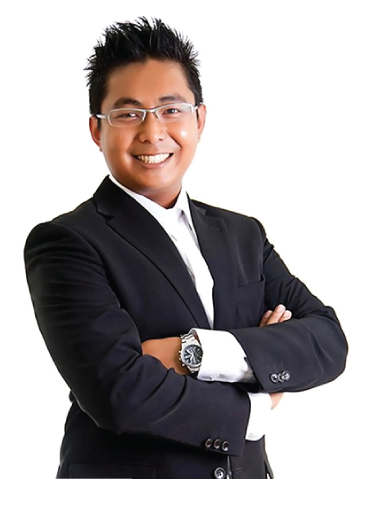 • Has over 10 years of training and coaching experience.
• Certified HRDF Trainer & Coach for both adults and students.
• Master Practitioner in NS-NLP, Body Language Expert.
• Nominated as one of AYA (Asia Youth Ambassador's) Malaysia Most Outstanding Youth 2009 & the winner for the Malaysian Start-Up Cup (2013).
• Author of "Be Lazy & Still Score A's" book and "Turbo Charge Learning JumpStart" DVD
Webster is the Founder of LH Learning group. He has coached and empowered over 20,000 students (and counting) in areas of motivation, studying and communication skills. He has conducted workshops and seminars in various countries including Singapore, Malaysia and Indonesia. His optimistic attitude and mindset, as well as his excellent communication skills, have enabled him to build instant rapport and motivate participants to give their best in life. Webster specialises in creating an effective and desirable study environment not just for students but for teachers and parents as well. Webster aspires to share the truth that each individual possesses the potential to succeed in life by acquiring the right mindset and taking action with the proper strategies.
read more
Sun

Sep 24, 2017
9:00 AM
-
12:00 PM
MYT
Add to Calendar
Venue

ProMizzion Aman Suria
Tickets

Standard

SOLD OUT

RM300.00
Venue Address

No.1 Jalan PJU 1/43, Aman Suria, 47301 Petaling Jaya

Malaysia
Organizer
Want to find more groups and events like this?