Share this URL: http://ptix.co/1a7DZWr
Event is FINISHED
Lighting on Location with the Profoto B1 (15 February 2014, 430-830pm)
1 Session, 4 Hours, 6 participants only
Lighting On Location with the Profoto B1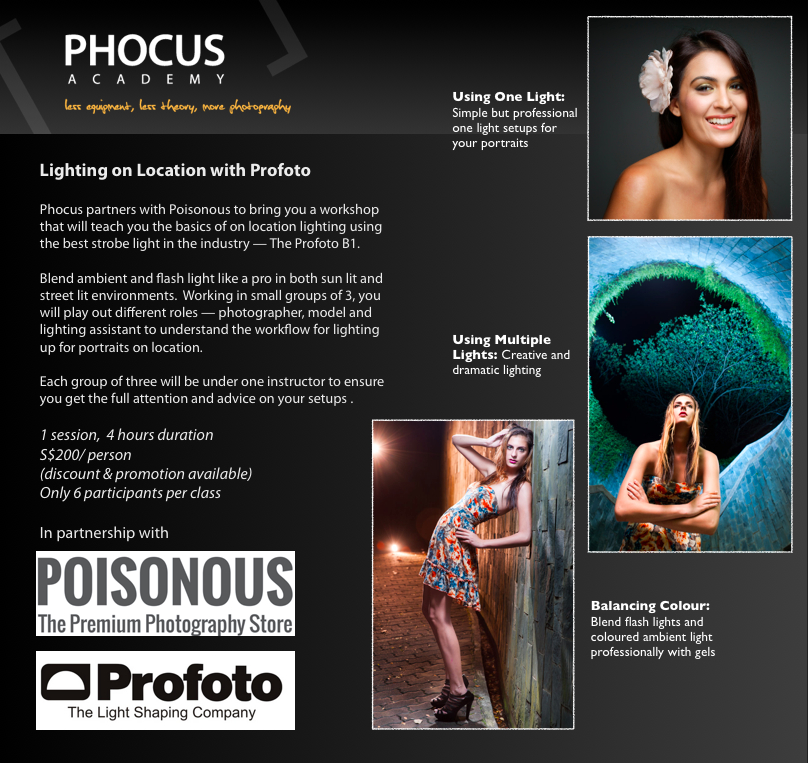 Date of Commencement:
15 February 2014 (Saturday)
Time:
1630hrs - 2030hrs (4hr Session)
Number of Sessions:
1 Session of 04 hours duration
Venue:
Outdoor location in town area
Workshop Fee:
S$200/person (max/ min 6)
Course Schedule
Saturday Class
15 February 2014, 4.30–8.30pm
Course Requirements
Participants must bring their own camera (DSLR or compact with manual exposure modes), speedlight with manual power output, and tripod. This workshop assumes participants have foundation photography skills, including knowledge of ISO, aperture, shutter speed and how to control them.
Course Description
Phocus partners with
Poisonous
to bring you this unique opportunity to work with the best lighting system in the market.
This workshop answers your "strobist" needs and is perfect for those wanting to blend ambient light and flash using none other than the very best — The Profoto B1.
Learn the techniques to overpower ambient light for drama, blend your flash with ambience for natural-looking portraits, or colour your shots with gels. While getting adequate light both in terms of quantity and quality will be easy with this lighting beast (the Profoto B1), the subtler art of lighting and producing pleasing shadows will be thoroughly practiced during the 3 hour hands on.
Get tips from your instructors and lots of hands-on practice on choosing effective backgrounds for your lighting on location portraits. You will also blend your Profoto B1 light with colored street lights completing the workflow for lighting on location both, in daylight and night light.
Class size is kept small — only three participants to an instructor — in order to ensure you have the most practice with this sophisticated lighting system under the guidance of the pros in the industry.
Promotions & Discounts
Early Bird Promotion
- $10 off
Sign up and make payment at least three weeks prior to the commencement date to enjoy $10 off your course fee.
Bring-a-friend Promotion
- $10 off
Bring a friend along and enjoy $10 off your course fee, bring two and get $20 off!
Detailed Course Outline, Sign Up Details
For detailed course outline, schedule, and sign up forms, please visit our
Lighting On Location page here
. For other enquiries, please email us at
academy@phocus.com.sg
.
----
read more
Sat

Feb 15, 2014
4:30 PM
-
8:30 PM
SGT
Add to Calendar
Venue

32B South Bridge Road
Tickets

Credit Card

SOLD OUT

$190.00

Credit Card (2 pax)

SOLD OUT

$370.00

DBS/POSB Bank Transfer (details will be emailed)

FULL

OCBC Bank Transfer (details will be emailed)

FULL

Cheque (details will be emailed)

FULL
Venue Address

32B South Bridge Road, Singapore

Singapore
Organizer
Want to find more groups and events like this?