Share this URL: http://ptix.co/2om9VUa
Event is FINISHED
Video Content Marketing (with your Mac)
Total training hours: 2 Days | 10 am to 5pm

The most powerful and engaging content on Facebook and Instagram are Videos. If you have ideas to be translated to a Video Content as your Marketing Strategy, but do not know how to start, this is the workshop for you! Our trainer will help you put together a Video Content Marketing Strategy, so come join us!

Hardware & Software Requirements:
(a) Smart Phone (Good Quality Video Recording)
(b) Macbook Air / Pro
(c) Quick Time App (FREE) - For Recording Video / Screen / Audio
(d) iMovie for editing your videos
Who is this workshop for?
• Marketing Executives
• Social Media Marketing Executives
• Digital Marketing Executives
• Startups and Business Owners
• Financial Advisors, Property Agents


Learning Outcomes:
(a) Learn to create video contents for your work or business
(b) Brainstorm and Research content to translate into your video marketing strategy


1. Introduction to the Workshop
(a) Why is Video Content Marketing the next up and coming trend
(b) REAL WORLD case study of videos going viral in engagements


2. Social Media Marketing: Graphic VS Video

(a) Facebook - Graphic VS Video
(b) Instagram - Graphic VS Video

What are the big retail companies doing on Facebook, Instagram and YouTube?

3. Type of Videos on Social Media and YouTube

(a) Understand about video marketing strategy
(b) Facebook Videos, and Live Video Functions
(c) Understand about video marketing strategy on Instagram
(d) What is Instagram Stories, and how does it work?

4. Discussion Activity: Video Content Strategy and Planning
(a) What's the process of Video Content Marketing
(b) How can you apply Video Content Marketing for your work and business
(c) Plan your very own flow chart of contents for Video Content Marketing
5. Content Brainstorming Session
(a) Brainstorm for ideas, draw it down into something that you can execute with videos
(b) Consultation of your video content ideas
(c)
Finalising
on your
video content strategy
6. Hands-on Activity: Record and Compile your Content for Editing
(a) Research
(b) Design
(c) Record, Film or Shoot your Videos for editing
7. Hands on activity: Video Editing, Compilation, Adding Text, Exporting Video
(a) Importing your videos into your Mac Computer
(b) Editing your videos with iMovie
(c) Effects and Functions in iMovie, Exporting your videos
8. Setting up a YouTube page:
Personal / Business Gmail Account Required
(a) Create a YouTube Account
(b) Design your YouTube Banner
9. Understanding Campaign Goals on Social Media
(a) Driving Engagements
(b) Setting your Video Content Marketing Goals
(c) YouTube Analytics and Features
10. Consultation / Q&A with Trainer

What you'll need to bring to class:
• Mac Laptop & Charger
• Mouse & Mouse Pad
• iMovie Application Installed in your Mac Laptop
• Quick Time Application (For Screen, Video & Audio Recording) on your Mac Laptop
• High Definition Smart Phone for Video Recording
• Basic handouts will be provided during the workshop
- - - - - - - - - - - - - - - - - - - - - - - - - - - - - - - - - - - - - - - -
* This workshop is Skills Future Claimable, for Singaporeans aged 25 and above *
No Cash Required. If you would like to use
Skills Future Credits
for this workshop, email us at
peatix@thegooddesigners.com
for instructions on how you can pay us directly with your Skills Future Credits.

Skills Future Course Code: CRS-N-0041549


20% discount for all non-profit participants. 10% discount for social enterprise participants.
Email us at
peatix@thegooddesigners.com
for more details.
Certificate Course
Participants who have completed the workshop will receive a certificate for completing the workshop.


- - - - - - - - - - - - - - - - - - - - - - - - - - - - - - - - - - - - - - - -
Charmaine is the Founder and Lead Trainer at Sky Digital Agency and The Good Designers.
Being a designer by training, she was intrigue by many things when she started her agency back in 2010. From Facebook marketing to SEO & SEM, she has became a self-taught marketer and hands-on practitioner.
A hands-on marketer and practitioner who believes in learning a new skill everyday, challenging herself to explore and embrace technology, even if it meant to try shopping in a mandarin app, like the TaoBao Shopping App when AliPay was no longer a requirement to create an account on TaoBao.
She is generous in dishing out tips and tricks, and always excited to bounce ideas off participants. Charmaine makes learning interactive, candid and fun, helping learners to be excited about applying what they have learned in their work or business even after the workshop.
If you're looking to learn abundantly, and use the internet as a marketing tool to help your business stand out in today's every growing technology, you have to join Charmaine at the workshop.
She strongly believes that the training industry needs more small class workshops that are conducted in a small group setting of max. 6 participants, and that is what she has set herself out to do. This is to ensure that participants get more out of each training with Sky Digital Agency and The Good Designers.

Always looking for opportunities to pay it forward in the community will her knowledge and skill sets. Charmaine also trains youth-at-risks, in collaboration with Ministry of Social and Family Development (MSF) under The Good Designers.
The Good Designers currently has 7 Workshops Skills Future Approved and Claimable. From YouTube Marketing, Facebook Marketing, Adobe Photoshop and Coding workshops to Infographics Marketing!

More details about The Good Designers: Facebook | Instagram | YouTube | Website
Here are some generous workshop reviews our participants have left us on Facebook on how our workshops have helped them be a better marketer for their work, business, and startups: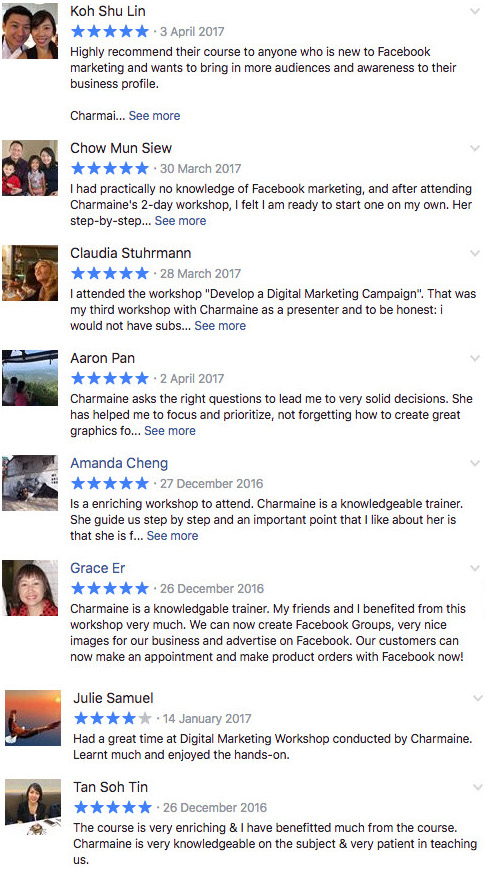 More reviews available on our Facebook Reviews
FAQs
1. Who can i contact should i have questions?
You may e-mail us at peatix@thegooddesigners.com

2. Is there a minimum class size to proceed?
Yes. We require a minimum class size of 4 people to proceed with the class.
In the event that there is insufficient participants, The Good Designers reserves the right to reschedule the class. Under such circumstances, we will inform you no later than 3 days before the event.
3. Where is the venue of the workshop?
6 Raffles Quay, #15-00, Singapore 048580

Charmaine speaking on the topic "Guide to Internet Marketing" during the 2016 #GivingWeek

Our New Training Location: 6 Raffles Quay, #15-00, Singapore 048580

Don't you just love the pantry. Makes learning more fun when you have different hot drinks to keep you awake! We mean... to help you focus!
read more
Jun 13
-
Jun 14, 2017
[ Tue ] - [ Wed ]
10:00 AM
-
5:00 PM
SGT
Add to Calendar
Venue

6 Raffles Quay, #15-00, Singapore 048580
Tickets

$498 (Pay with Skills Future)

FULL

Regular Tickets (2 Days)

SOLD OUT

$498.00
Venue Address
Want to find more groups and events like this?