Share this URL: http://ptix.co/2mr3tKC
Event is FINISHED
Coffee Book Club: The 4-Hour Workweek
Do you dream of escaping the 9-5 rat race?
Do you fantasise about living anywhere in the world?
Do you desire to do anything that you want, and join the New Rich?
We were wondering about those same questions and then, we found this book.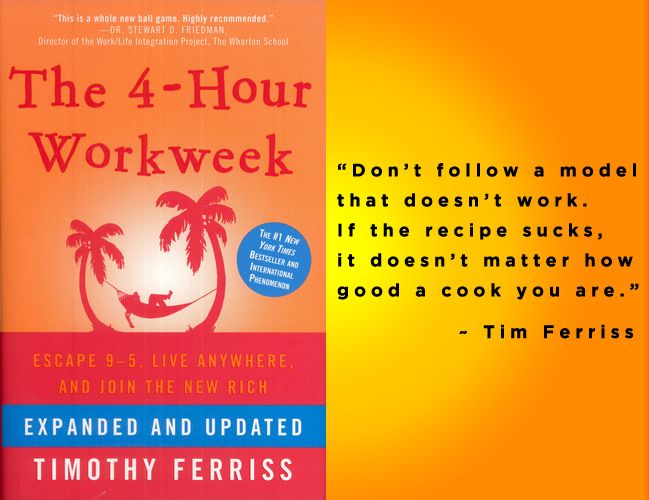 The 4-Hour Workweek By Tim Ferriss
In this book, three-times
New York Times
bestselling author
Timothy Ferriss
shows readers how to live more and work less, and to forget the old concept of retirement and the rest of the
blah blah blah...
Take a break dude, and let me do this copywriting shit. Coz seriously, I sexify shit!
Hi, Maverick here.
Now that the nerdy copywriter intern is curling into a ball at the stairwell, probably lighting up his joint and looking to get high, let me tell you what this event is really,
really
about. And if you had been:
Trying 5467 ways to kickstart your business idea and just can't seem to get it's fat ass off the ground


Dragging your feet even to your own business because you've just been overwhelmingly pulled in more directions than the number of limbs you have


Having panic attacks thinking of your life and just can't seem to catch a break


Tired of seeing your friends catching their breaks and flooding your FB timeline with their selfie with celebrities all around the world

#dicks




Working your ass off thinking you can spend more time with your family, only to realised you've just missed the best parts of life
… then you should seriously hit the green
REGISTER
button and come to the event.
But nah, you're not gonna come for another dull, boring, over-promised-zero-value event, because you've been to so many of it. No, no, no. You want that personal breakthrough, that over-the-fence-boost you need escape your hell hole, that one trick to make your life instantly better and dominate the shit out of your friends. (Just kidding about the last part)
Well, that's where I come in.
Like you, I'm a practical dude. Sure, holding hands, singing
rasa-sayang
and shouting out your goals until you have to skip your weekly karaoke sessions may work for some people, but I'm talking about the
real shit
that brings
real results
.
You're probably asking, who the fuck is this
Maverick
guy anyway, and what has it got to do with Tim Ferriss' book? And why is he kicking the previous copywriter off?
Sorry for barging in (and kicking out the copywriter) without a proper intro. Let's start over.
Hi, I'm Maverick

- college drop-out, ex-buddhist monk, single-dad, co-founder of one of the largest monthly (non-gov-funded) entrepreneur meet-ups, goes on month-long holidays, cafe-hopping-ocean-dunking-bowl-licking traveller and usually only works 45 to 90 minutes a day. And Tim's

4-Hour Workweek

was the catalyst, the trigger, the switch, the relieve for the itch, that made it all happen.
18th July 2015 | Me, the book that 2.0ed my life, and a bunch of hot chicks at the beaches of Legian, Bali.
So when I was invited by the gang at

Coffee Book Club

to give a book talk and share my

top tips, tricks and techniques

I got from

living

the book, I nearly ran my car over a bunch of china tourist (who just couldn't decide where to walk and probably deserve to be ran over anyway). Yes, essentially, I was excited, elated, ecstatic even!
And no, you're not gonna get me just reading off pages of Tim's book, playing some YouTube clips and showing you some funky slides.
No, that wouldn't do the book justice.
Instead, you're gonna get the principles and practices from the book that literally empowered, enabled and I would even go on to say enlightened me.
Yeah, this power-packed session is gonna be jam-packed with KICKASS contents like:
Discover how I switch from working

18 hours a day to only 90 minutes

, and actually made more money!


Check out what apps and tools I had been using that enabled me to

travel months in a year and just be lazy

!


Learn what I

teach my 8-year-old son

on the concept of money, entrepreneurship and value-creation


Dig into my pocket of hacks (please avoid my balls) on marketing technologies that resulted in

over 93% of my income




Unlock my treasure chest of no-way-it-can-be-that-easy-but-results-do-not-lie

mindset strategies

that you wish you learned 10 years earlier (no worries, I learned them 10 years too late anyway)
But of course, that may not be enough for you. Which is why I'll also show you the other-side of the book and give you the the stuff of legends like:
How to get FHM's hottest cover models to start a conversation with you


How to use Jedi Mind Tricks to ethically steal business contracts


How to have an I-Don't-Give-A-Fuck attitude and still be lovable


How to get multi-million dollar advice from the best subject matter experts for free


How to instantly be happier without marijuana and/or masturbation
Oh hey, the copywriter is back! Ciao guys, see you at the event!
For this episode, we will have 2 speakers who'll deconstruct The 4-Hour Workweek.
Co-Host at FuckUpNights KL
Maverick is the Co-Founder & Events Wizard of KICKSTART.MY – Malaysian's KICKASS Business Networking Community. Spurred by a little boredom and accidentally combined his passion for entrepreneurship, skills to create inspiring platforms, and connection with mentors and speakers, KICKSTART.MY has grown from a gathering of 20 people to over 200 in just 3 months! His work at KICKSTART.MY has led him to be part of Mindvalley's Project Renaissance – a 10 year project to turn Kuala Lumpur into one of the top 10 places to start a dotcom, and now as the co-host of FuckUpNights KL.
Director at KERN Ventures
Actuarial graduate who is passionate about startup investments, innovation and business strategy. With background in banking, risk management and consulting from central bank of Malaysia and Barclays London. Currently serves as the director of KERN ventures.

WORQ (
(Hottest new co-working space))
Why you should join the Coffee Book Club?
• Understand the content of a 200⁺ page book in about 40 minutes
Serious book people only. Please don't come and sell your properties or your insurance schemes.
There will be coffee so register now to avoid dissapointments!
Read books in minutes, not hours. Don't just stop there, share it with others too.
Have you always wanted to read a book but stopped halfway through because you just don't have the time? Well then, this tribe is for you. Come join the Coffee Book Club to get the best of the books of your interest in under 1 hour!
Coffee Book Club
is designed to bring together people who are looking to make new friends, discuss a book that enriches, inspires or offer insights into entrepreneurship and tech startup, expand social network and just generally socialize over coffee.
By attending our event, you will be able to understand the content of a 200⁺ page book in about 40 minutes and be able to use it in your life immediately!
Like and follow us on
Facebook
for more updates about our upcoming events!
WORQ is a new productivity, connectivity and community hub opening in Glo TTDI. Come connect and cowork with the friendliest and most productive community!
read more
Thu

Mar 16, 2017
7:30 PM
-
10:30 PM
MYT
Add to Calendar
Venue

WORQ @ Glo Damansara Mall
Tickets
Venue Address

Unit 3A-01A, Level 3A, Glo Damansara, No. 699, Jalan Damansara Kuala Lumpur

Malaysia
Organizer
Want to find more groups and events like this?