Share this URL: http://ptix.co/2e0PANe
Event is FINISHED
YukoiMoto - Exclusive MakeUp Class
Warning! Ladies, If You Learn

This Art of Make-up

, YOU Might Become The Centre of Attention..
Discover The 2 Basic Forms Of Make-Up suitable for ALL ladies
Understand Your Own Facial Shapes And Your Own Unique "COLOR"
Learn how to use this Art of make-up to create a Powerful First Impression
Instantly become 2 TIMES more attractive by applying the 7 Steps Beauty Formula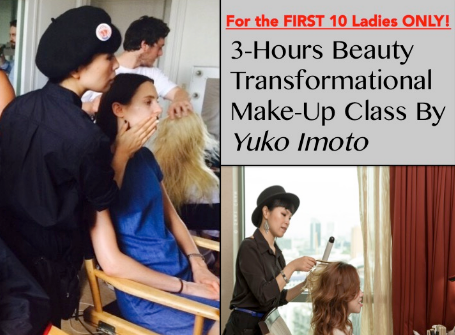 Thank you for making it here!
My name is Yuko and I'm a professional make-up artist from Japan.
Over the years I have done several projects for experienced stages, music lives, TV and movie backstages, weddings and fashion shows including one of world's most prominent brands "Paris Collection".
What fulfils me the most is to be able to help do andTEACH make up to ordinary women just like you and me..
Why?
Because I used to be someone with no self-confidence..
I used to be someone who hated myself...
I used to be someone who thinks that the world is unfair...
When I looked at other girls who have a pretty face, they get treated better by other people, I felt it was so unfair..
I didn't know how to change myself and I hated how I looked and many things about myself.
The thing that turned my life around, was the art of beauty make-up.
And this very art of make up is what I call the "7 Beauty Steps Formula."
Think about it, growing up as a lady, what are the chances of us being taught make-up?
Close to none! The only ones whom we probably learn from are our mothers, sisters or friends..
Maybe you went online to look for make up tutorials or learnt it from magazines.
And sometimes it's quite frustrating to not get the final outcome of how you think you would look like after applying make up on yourself right?
Make up is not a mere cover or mask to a lady..
It is something which we do almost everyday..
It is something important to a lady..
And there is a huge difference between ladies who know how to make up well and ladies who don't.
There are many varieties to become more attractive, pretty, cute or however you want to look, such as the facial tone, shape, color, skin type and so much more.
And I am going to share it with you in this 3 hours make up class!
The thing is.. I will only be in Singapore for a few days and I'll be going back to Japan after this short trip..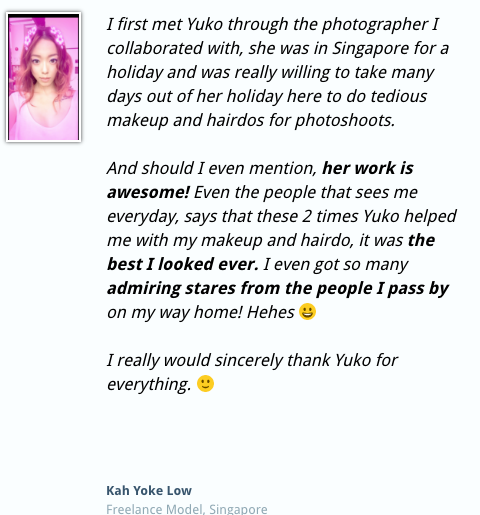 Over the next couple of years, I will be traveling around Asia to teach this beauty make up formula to several women and my wish for you, is that by teaching you this formula, you will become even more beautiful, appreciated, respected and admired.

For me, it is something dear to my heart because it completely changed the way I think, look and feel.
Ever since learning make-up, I had a different perspective about the world and things began to change for the better and now I'm very happy with my life.
I believe it will do the same for you..
People will also start to pay more attention to you..
You will even become more courageous and expressing yourself the way you want will come naturally..
Sure there are many other ways to improve your outlook which could take a lot of time, risk and money such as surgery, signing up for a gym membership, dieting etc..
But why wait when you can learn this now and transform gracefully in days?
Please book your seats, register for your tickets and I can't wait to see you in person!
Matta Ne まったね (See you soon!)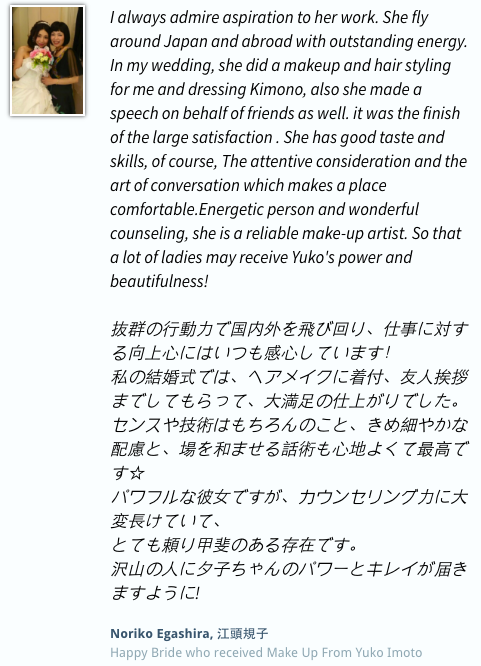 read more
Sat

Nov 5, 2016
2:00 PM
-
5:00 PM
SGT
Add to Calendar
Venue

1 Irving Place, #08-09,The Commerze@Irving,Singapore ,369546
Tickets

Early Bird Promo Price

SOLD OUT

$22.00
Venue Address

1 Irving Place, #08-09,The Commerze@Irving,Singapore 369546

Singapore
Organizer
Attendees
3
Want to find more groups and events like this?