Share this URL: http://ptix.at/SjpcYt
Event is FINISHED
【ICU PRISM ×マサキチトセさん対談】「企業で輝く女性/LGBT」が増えたところで一体何が変わるんでしょう?
(English follows Japanese (Japanese will be used in the event))

「企業で輝く女性/LGBT」が増えたところで一体何が変わるんでしょう?

~私達は役員室に女性たちを何人送り込むかということを求めてきたのではない、役員室をぶっ壊すことを求めてきたのだ~

出演者:ICU PRISM ×マサキチトセ

日時:2020年12月14日(月)18:45開場/19:00開演

場所:zoom(参加費無料)

使用言語:日本語

申し込み :https://peatix.com/event/1704738/view

※ZoomのURLは、当日午後5時ごろにPeatixを経由して配布いたします。


タイムテーブル

19:00~19:05 イントロダクション

19:05~19:40 クィアの視座からLGBT運動・フェミニズムを捉え返す

19:40~20:15 クィアリングICU

20:15~20:40 私たちは人間の序列化から逃れられるのか~クィアの限界と可能性~

20:40~20:45 休憩

20:45~21:00 質疑応答


【出演者プロフィール】

マサキチトセ

ライター/YouTuber。1985年5月26日生まれ。栃木県足利市出身、ニュージーランドとアメリカを経て現在は群馬県館林市在住。2011年にシカゴ大学大学院社会科学修士課程を中退。以降ジェンダー・セクシュアリティを中心に執筆や講演など評論活動をしています。


ICU PRISM

ジェンダーセクシュアリティに関心のある学生が集まって活動しているインカレ学生団体です。ゲストに研究者をお呼びするPodcastを不定期配信したり、ICUのジェンダー研究センターとコラボしてイベントを開催したりしています。


イベント概要:

同性婚が認められればLGBT問題は解決する?企業で働く女性が増えれば男女平等は達成できる?ジェンダーセクシュアリティをめぐる現状に鋭い批判を投げかけてきたマサキチトセさんと一緒に考える対談イベントです。




----- English -----

Who cares if there are more "LGBT/female executives"?

Or: We have been fighting to get rid of corner offices, not to get women in there


Event description:

Would "LGBT issues" be solved if same-sex marriage were recognized? Could gender equality be achieved if more women were working in companies? In this talk event, we will discuss with Masaki C. Matsumoto, who has been a sharp critic in the area of gender and sexuality.


Speakers: Masaki C. Matsumoto and the student organization ICU Prism

Date and time: 2020-Dec-14 (Mon) Zoom opens at 06:45 PM, Starts at 07:00 PM

Venue: Zoom (Free event)

Language: Japanese

Register form URL: https://peatix.com/event/1704738/

The Zoom URL will be emailed via Peatix at around 5 PM on the day of the event.


Time table

07:00 PM - 07:05 PM Introduction

07:05 PM - 07:40 PM Reframing the LGBT movements and feminisms from a queer perspective

07:40 PM - 08:15 PM Queering ICU

08:15 PM - 08:40 PM Can we escape from the hierarchy?: Limits and possibilities of queerness

08:40 PM - 08:45 PM Break time

08:45 PM - 09:00 PM Q&A session


Speakers' profile

Masaki C. Matsumoto

Masaki C. Matsumoto is a queer writer/YouTuber. They were born in 1985 in Tochigi, Japan. After living in New Zealand and the US, they currently reside in Gunma, Japan. After they left the MA program in the social sciences at the University of Chicago, they have been active as a writer/lecturer, mainly on gender and sexuality.


ICU Prism

ICU Prism is a student organization that consists of students who are interested in gender and sexuality. The list of activities includes a podcast with researchers as guests, holding events in collaboration with the ICU's center for gender studies, and raising awareness about various gender-related issues via social media.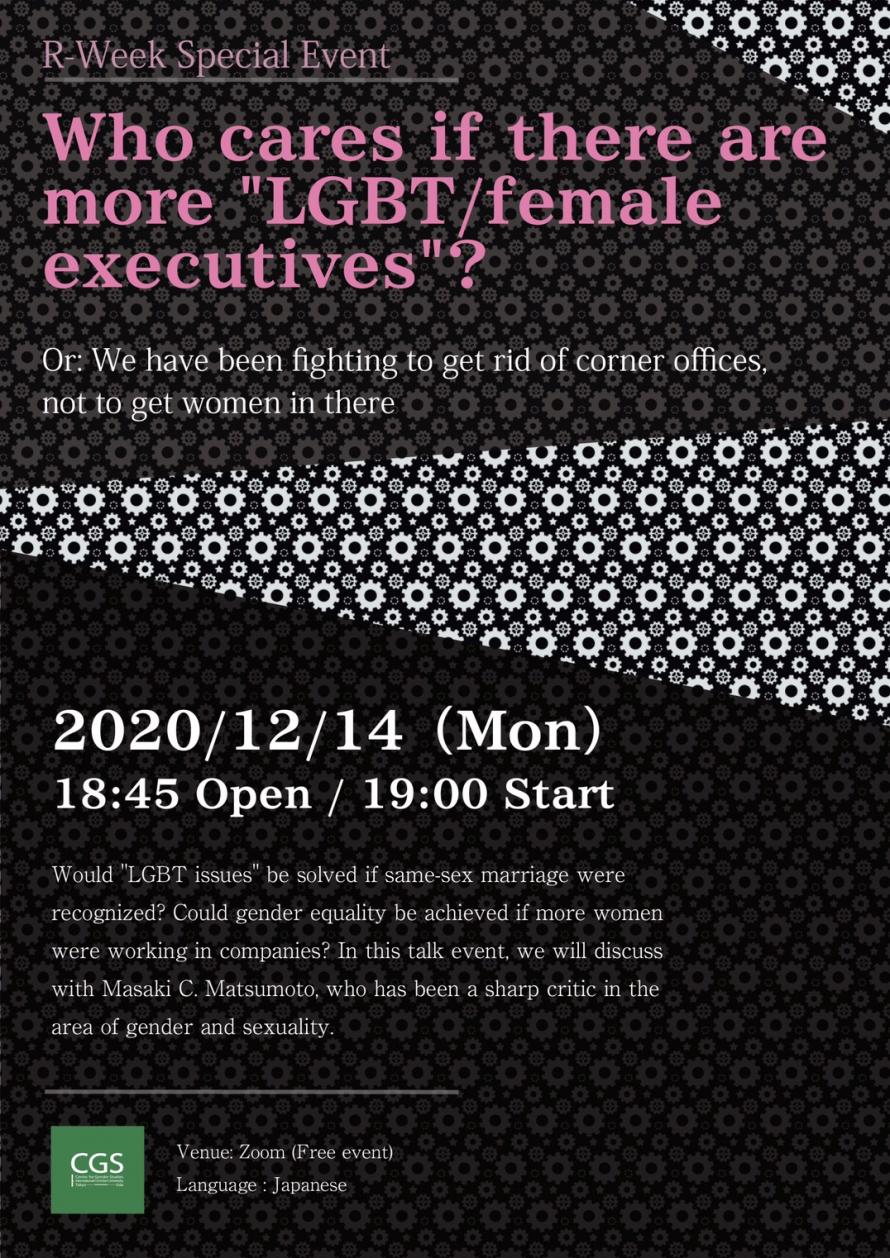 Read more
Mon

Dec 14, 2020
7:00 PM
-
9:00 PM
JST
Add to Calendar
Venue

Online event
Tickets
Organizer